The Arrangement: Watch Suits Season 3 Episode 1
The long wait is finally over! Suits is back.
On July 16, 2013, fans all over the world were celebrating as USA Network aired the first episode of Season 3 of the well-loved TV series Suits, starring Patrick J. Adams as Mike Ross and Gabriel Macht as Harvey Specter. In the last episode of Season 2 entitled "War", viewers were left hanging about the merger that was about to happen between the two law firms under the management of Pearson and Darby. Towards the end, it was shown that the relationship between Harvey and Mike turned sour when the former felt betrayed by the latter whom he considers not only as an associate but also a brother. On the same episode, Mike Ross finally told Rachel that he never went to Harvard.
After seeing the 16th and last episode of the previous season, I felt like I wanted to fast forward the days so I can finally see what will happen to the relationship of Mike and Harvey. I also wanted to know what will Rachel do after finding out that Mike Ross was a fraud. It took five long months before I was able to get the answers from "The Arrangement." But it was
worth the wait.
Summary of S03E01:
The names in the wall have been changed from Pearson Hardman to Pearson Darby. This new merger would have not become possible if not for Mike Ross which was the reason why Harvey hated Mike. Jessica gave a new office to Mike and at the same time, tried to win Harvey's confidence in her. Rachel and Mike are now in a good relationship after the "confession" was made. There's a new rivalry in the series between Nigel and Louis Litt. Mike wanted to make it up to Harvey so he tried to help him in his current case. The help was refused by Harvey but at the end, the document prepared by Mike putted him in an advantage position over the other party. The episode ended with two important scenes:
- Mike Ross returned his office to Jessica saying
"
The thing is I don't wanna be here if I'm not solid with Harvey."
- Harvey Specter realized that he doesn't run away from a fight so he made a deal with Darby: If he wins the case, he will become the managing partner of the firm.
Watch Suits Season 3 Episode 1 Online for FREE
Now, I'm waiting again for the second episode which will air on July 23, 2013. To those who are asking about the OST for the first episode, here is a photo I saw at Suits' Official Facebook Page. Make sure to follow them, Suitors!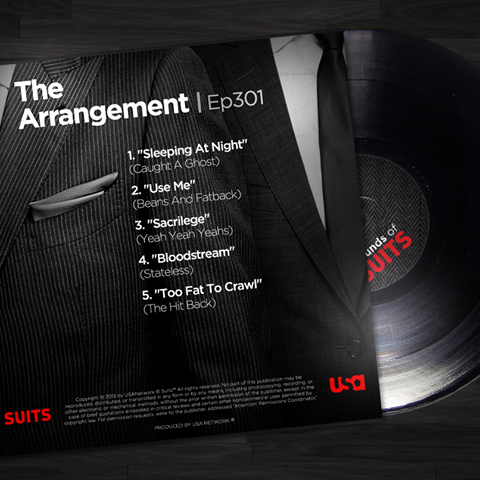 Enjoy these quotes from the first episode of Suits - The Arrangement:
The real nightmare would be.. if you wouldn't wanna be with me.
I meant that the first time I ever saw you.
You know what we both felt. I don't wanna lose that.
I'm really glad that it did.
I am too. But what happens if you get caught?
What you have might not be a nightmare but what if you get exposed?
Go in tomorrow and just quit.
I wouldn't have saved your ass if I don't think you deserve this.
You can think of this office of what you did to Harvey or a symbol of what you can accomplish in the firm.
But what if I say no?
I don't believe it's an option.
Well, I'm learning to let go.
Oh Harvey, there's one more thing. You better win this goddamn case.
I know it's not my place but you really suck at quitting.
You didn't do a single thing to deserve it.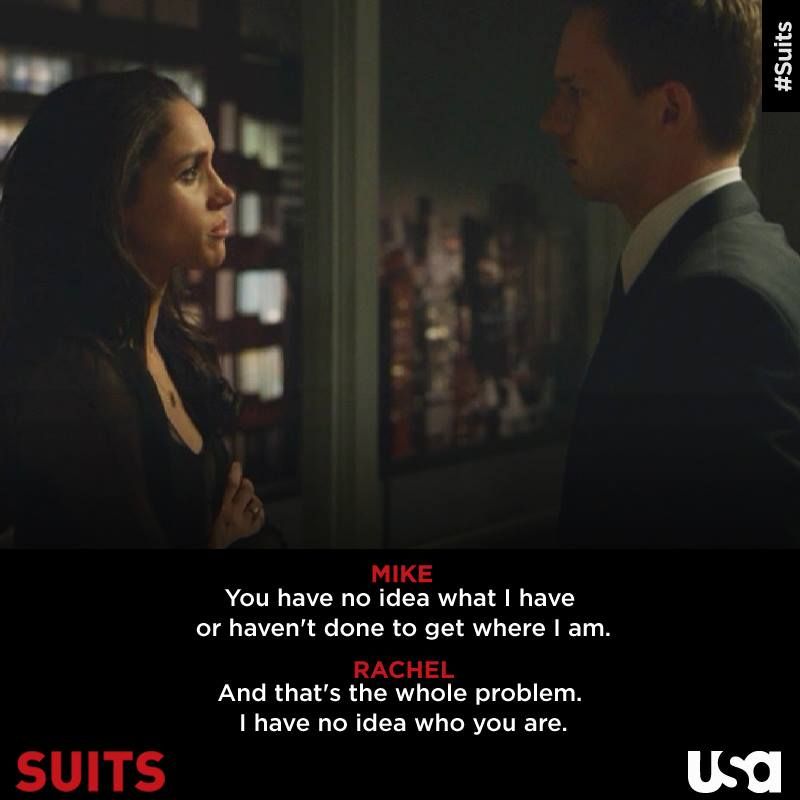 That's the whole problem, I have no idea who you are.
Do we have a deal or not?
It appears that we do.
It's complicated.
Well, simplify it for me me.
If it weren't for Harvey, I wouldn't even have a cubicle.
Harvey is not superman anymore. He's batman. And Batman needs Robin.
And I just need to remind him about that?
You've always meant something to me.
Good. We're done.
I haven't officially hired you here.
Yes you did.
You think you're irreplaceable?
You tell me everything. That what goddamn loyalty is.
I'm not just prepared for this position. I was born with it.
I didn't realize that our bond has an expiration date.
I'll do it again but not today.
What if I tell you I need this one?
Then I'm sorry.
I'm not going to forget this.
Relax. We were trained for this.
The associates are my life so please don't do this.
Harvey didn't value you for helping him in his cases but what he valued is your loyalty.
I don't need more enemies. I'd rather have a friend.
I need you to build me a time machine and a bite on your sandwich.
Well obviously he's not the man he used to be.
Just because you use it doesn't mean you have to forgive him.
Always a reason, always out for a greater good but at the end it's always about him.
At the end if the day, I don't believe Harvey really wants to leave.
Loyalty is a two-way street but you ran over me.
Thank you for reminding me that I don't run from a fight.
The thing is I don't wanna be here if I'm not solid with Harvey.
As for your choices, you made that all by yourself. So don't come crying to me.
I don't wanna run from a fight.
What do you mean?
I win. You don't fire me. You back me as a managing partner.
You want to take down Jessica.
Yes I do.
Photo credits: https://www.facebook.com/SUITSonUSA