Let's Ask Diego with Anything Under the Sun
There are many reasons to be proud of being a Filipino. One of the characteristics which make Filipinos exceptional is our positive outlook in life despite the adversities that we encounter. In the past few years, we have witnessed how different typhoons devastated some places in the Philippines. Many of our fellowmen lost their homes, properties, families and their lives. However, after everything they've been through, we can still see them smile as they face their problems. Another reason to take pride of being a Filipino is our ability to be generous to other people. Filipinos are always known to their helping hands to those who are in need.
And the most special trait that I love about Filipinos is our close family ties. We always share a deep love and connection with our families. In fact, our families have always been (and will always be) our top priority.
PLDT, the number one home broadband, knows how each and
everyone
of us value our family. So they are bringing the chance to enjoy
"Limitless sharing with the strong reliable family-sized connection."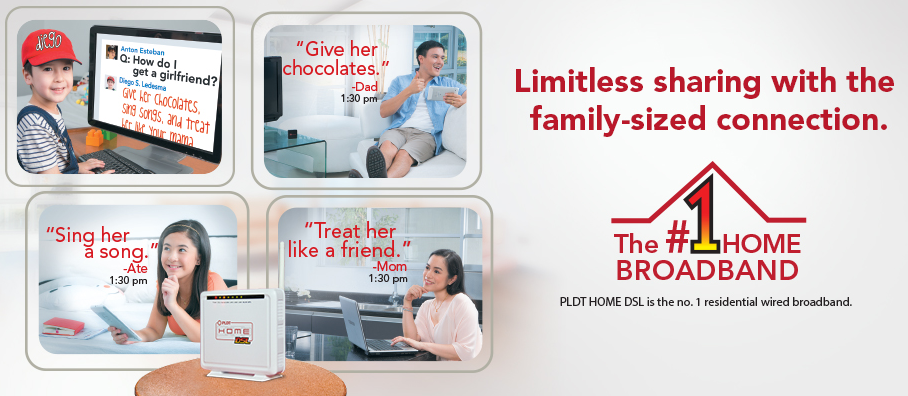 With this newest offer from PLDT, families can now do many activities within the comfort of their own home. The fast PLDT internet connection enables them to watch fun and interesting videos together. Parents can just turn their computers on and let their child enjoy educational movies and other documentaries during the weekend. They can also play games with their kids by accessing different online gaming sites designed for the children. There is certainly no limit with what they can do at home!
Strong Reliable
Family-sized Connection
"Family-sized connection" refers to the simultaneous ONLINE use of multiple gadgets as powered by PLDT HOME DSL.
With this feature, families with PLDT lines ca
n now go online simultaneously with all their tablets, smart phones and laptops. They can expect a strong and reliable connection from PLDT. Ate can access her blog,
Kuya
can play his online
cames
,
Bunso
can watch online interactive books,
Mama can download
Pinoy
recipes and Papa can read the latest news online. All these are made possible by PLDT.
PLDT Home DSL with "Ask Diego"
PLDT HOME DSL is an enabler of family-sized connections. This is why they feature families in their TVCs.
Recently,
they picked the
Ledesma
family (Ask Diego's family) to star in the TVC.
It's time that you meet the bubbliest and the cutest member of the family – little Diego.
Watch the TVC
below:
Get connected with this cute kid from the
Ledesma
family. You can follow him on
Facebook
(
Facebook.com/
askdiego
).
Ask Diego Fan Page is about a 7-year old Diego who gives online advice with the help of this family daddy PAOLO, mommy LARA and
sister
TRISHA.
It's really good to hear what a little kid like Diego has to say to all of you. His innocence and views about the world will make you feel happier!
With PLDT Home DSL's STRONG, RELIABLE, FAMILY-SIZED Connection your family enjoys LIMITLESS SHARING. These are some of the great benefits that you and your loved ones can enjoy:
-One connection for the entire family. There is no need for separate lines!
- Only one connection that powers all your devices at home - from your smartphones, your kuya's desktop personal computer, your dad's laptop to your mom's tabelts.
- One connection for simultaneous use - enjoy the internet all at the same time - a connection so strong it's meant to be shared. That is how a Family-Sized broadband connection for the home should be, it should allow your family to enjoy limitless sharing.