#GLOBEProjectWonderful2014: One Thing I Can Give to the Philippines
"If there is one thing you can give to the Philippines, what is that gift?" Answering this question is not an easy thing to do. As much as possible, I would like to give every single best thing to my dear country. I believe that the Philippines and the Filipino people deserve all the good things this world has to offer. My fellow countrymen deserve happiness, contentment, love, peace of mind and hope. Every Filipino family has a right to eat three times a day, experience a worry-free life and be close to one another. Every child is worthy of having a loving family and a home he can call his own. He does not deserve to be in the streets begging for something to eat and wandering with nowhere to go.
If only I have the power to be someone else, I would definitely choose to become a genie so that I can grant wishes and make dreams come true. In case it happens, I would not only grant one or three wishes but all the desires of the Filipinos. However, reality bites and tells me that I will never be a true genie. Well, if I can't be one then I'm sure I can always act like one. I want to make everyday a perfect time for giving and sharing!
So, if there is one special gift that I can give to the Philippines, it would certainly be my TIME.
"But I give best when I give from that deeper place;
when I give simply, freely and generously,
and sometimes for no particular reason.
I give best when I give from my heart." ― Steve Goodier

Many of you are probably wondering why I chose to give away my time. Will it even have a good effect to the community? Yes, I believe so. To give my time to the Philippines means to give a thing which is truly valuable in my life and a thing I do not consider as "extra." In fact, I sometimes feel that 24 hours a day is never enough to do all the things I want, to grow my relationship with other people, to be a good student and to complete my tasks. At the end of the the day, the question will always be "Did I make a good use of my time?"

Now that I am given an opportunity to give one special thing, that gift would be "TIME to share the simple joys in life." Let me quote Rick Warren in his best-selling book entitled The Purpose Driven Life: What on Earth Am I Here For. He said "Time is your most precious gift because you only have a set amount of it. You can make more money, but you can't make more time. When you give someone your time, you are giving them a portion of your life that you'll never get back. Your time is your life. That is why the greatest gift you can give someone is your time. It is not enough to just say relationships are important; we must prove it by investing time in them. Words alone are worthless."

I want to share a big part of my life to those who deserve all the goodness in this world. To share my time in sharing the simple joys in life means to give a part of my life to my fellow countrymen. I want to be of service to other people. I want to make the Filipinos believe that they are worthy of receiving hope, faith, love and happiness. I wish that each and everyone of us can give a part of our lives to our fellow Filipino people. Imagine the positive changes we can make if we just learn how to share a wonderful time with each other.

This is how I would like to share the simple joys in life:


Give TIME to remind the kids in foundations that they are truly loved. There are many children in different charitable institutions who are more than worthy of receiving love, care and understanding. I want to reach out to them and let them feel that they are not alone in their journey. I want to spend a wonderful time with them by giving them toys, playing with them, preparing meals for the little ones and reading books for them.
#GLOBEProjectWonderful2014: Do a charity event for children from a chosen foundation.
Give TIME to share hope to the victims of calamities. In the past few weeks, we have heard of the different places in the Philippines which were greatly hit by typhoons. These left many families homeless and devastated for the loss of their loved ones. I can't imagine how hard it was for most of them to survive but lost everything and every person that matters in their lives. They are the ones who need the sincere support of the whole Filipino community. It is important that I become one of the torches that will light their ways in this moment of darkness. I want to be one of the persons who will make them feel that there is still hope.
#GLOBEProjectWonderful2014: Do relief operations for the victims of typhoons and help them rebuild their homes.
Give TIME to reach out for the street children. It saddens me whenever I see young and innocent children begging in the streets when they should be at school learning about Science, Mathematics, Christian Living and other subjects. Just because they don't have enough money to enroll themselves for school doesn't mean that they cannot learn. Education should be made available to all Filipino children, not only to those who can afford it.

#GLOBEProjectWonderful2014: Volunteer for an event giving free tutorials and free educational books to street children.


Give TIME to always get connected with the ones I love. The secret to a happy relationship is constant communication. I can attest to this because I am a daughter of an OFW but never in my entire life have I felt alone. The everyday calls of my father give me comfort and make me feel happy. Aside from my close relationship with my dad, constant communications also allowed me to strengthen my bonds with my high school friends even if we are already miles away. Instead of giving all my time to studies and work, I will now choose to spend it with my family and friends. I know that they are the ones who should be my number one priority.

#GLOBEProjectWonderful2014: Give a special promo for Globe subscribers allowing them to get the best value for their prepaid loads (free minutes of calls, free MB allocation for mobile date or free text messages for a certain amount of prepaid load).

May we all make use of our 86,400 seconds everyday to make a change for the betterment of the Philippines. We can make things happen. Together, we will create a wonderful world. Remember, #GlobeProjectWonderful2014 will help us make a wish come to reality.

Globe: Creating a Wonderful World


Every one of us can be a genie to all the great people surrounding us. All that needs to be done is to set aside intentions for ourselves and start being selfless. I asked my friends the same question "If there is one thing you can give to the Philippines, what is that gift?" and they answered: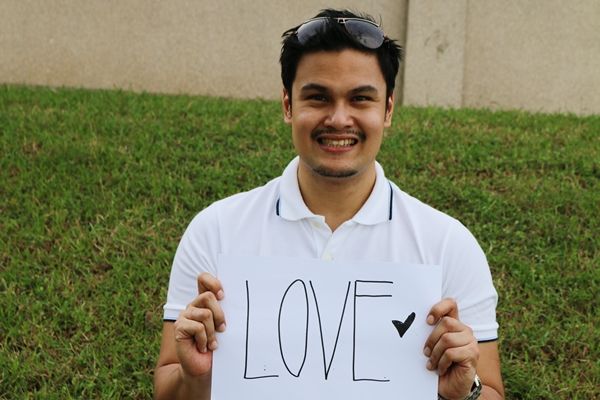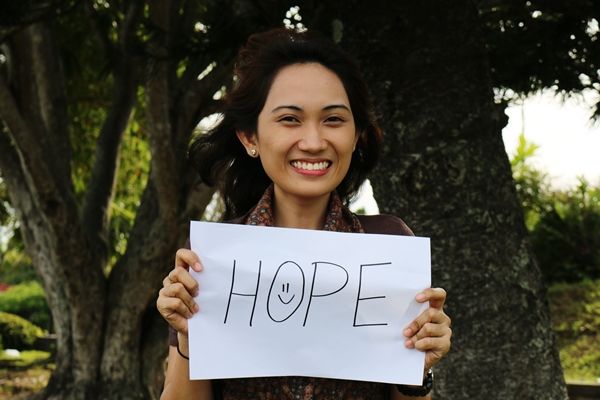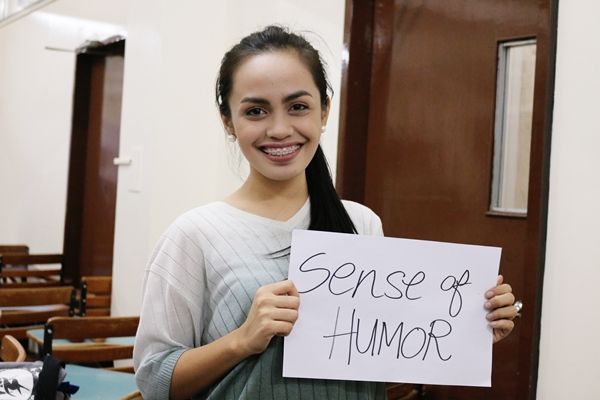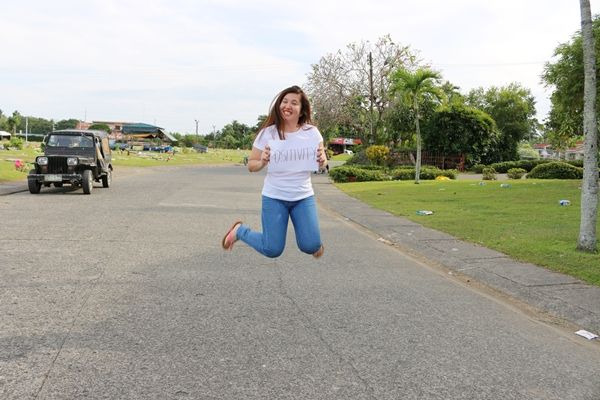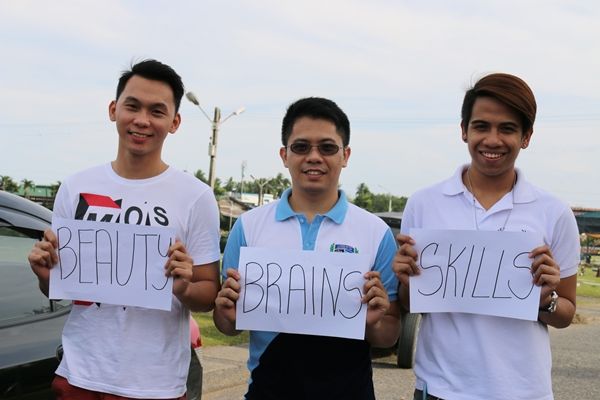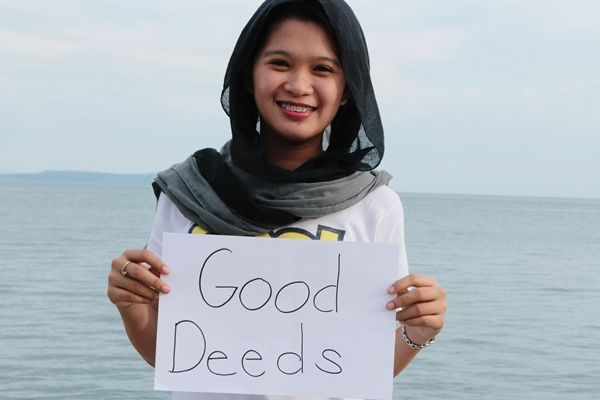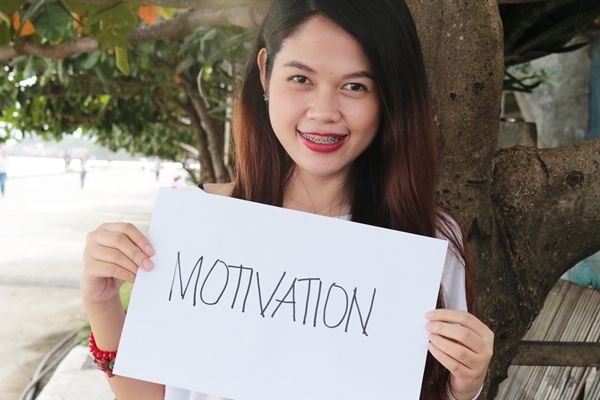 "When we give freely, we feel full and complete; when we withhold, we feel small, petty, impotent, and lacking. We are meant to learn this great truth, that giving fulfills us, while withholding and trying to get causes us to feel empty and even more needy. This truth runs counter to our programming, which drives us to try to get something from others to fulfill our neediness, only to end up even more needy, grasping, lacking, and unfulfilled." ― Gina Lake
This is my official entry for Nuffnang's contest: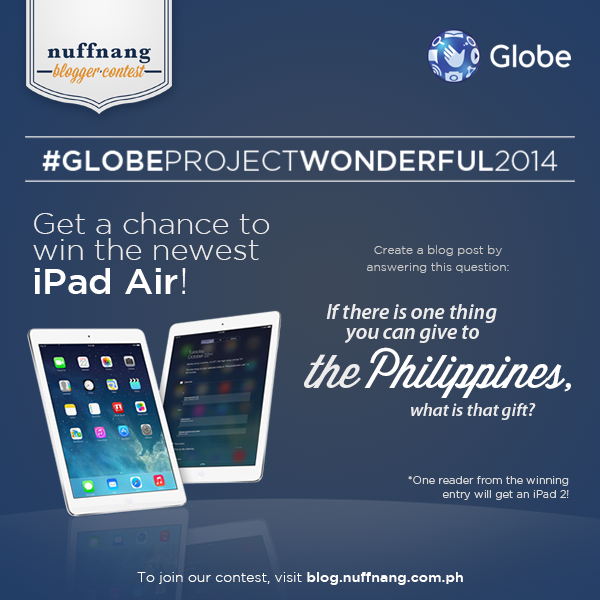 Here is a good news to all my readers: If this blog entry is chosen as the winner for #GLOBEProjectWonderful2014 Blogger Contest, one lucky commenter will also get a chance to win an iPad Mini 2. All you need to do is to comment below by answering the question:
"If there is one thing you can give to the Philippines, what is that gift?"