Bride for Rent: A Feel-Good Movie for 2014
The promising love team of Kim Chiu and Xian Liam shows everyone
(again)
that they are the perfect match for each other with the overwhelming success of their latest movie "Bride for Rent." On its first day, January 15, 2014, the film earned 21 million pesos and the numbers are growing every day. Last year, the same tandem wowed everyone with their exceptional acting skills for the blockbuster hit "
Bakit Hindi Ka Crush ng Crush Mo?
" Since then, people are talking about how they look good together, on and off cam. They are all-natural when it comes to portraying their roles in television. It seems like they don't need to exert extra effort to give life to their characters.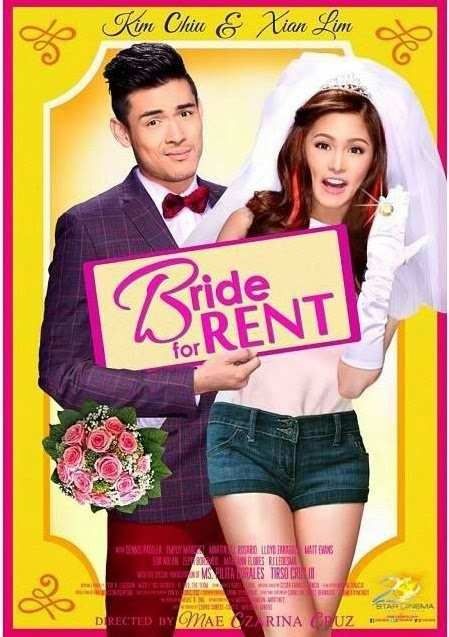 The good news is that Bride for Rent is not about two women fighting over the same man, a man committing acts of infidelity against her wife or an ex-girlfriend who is trying hard to get back with her past love. Rather, the movie is more about the positive side of love which is shown in a very unique way. The film imparts to all its viewers the values of forgiveness, honesty, letting go and loving unconditionally. Bride for Rent is a light-drama movie which will bring joy to everyone who will watch it.
The film is about Rocco (Xian Lim) and Rocky (Kim Chiu) who was forced to be in a situation wherein they need to fake their marriage. For Rocco, he needed to do it to get his trust fund because one of the conditions for the release of such is that he should be married. On Rocky's part, she agreed with the set-up as it will enable her to help the family, she being the bread-winner. In the beginning, everything was fake but as they continue pretending to be husband and wife, they started to see the beauty in each other. Rocky was able to bring the best man out of Rocco who had trust and commitment issues. Just when Rocco proposed to marry Rocky (for real), he found out that Rocky was also doing a job for Lala (Rocco's grandmother.) He felt betrayed by the only woman who made him capable of falling in love. That's the major twist of the story but everything that happened before and after it are worth-watching. So, I won't spoil more details about the movie. You have to see it yourself.
I swear, you will not regret it. The film is worth every penny. Bride for Rent will make you believe in the beauty of life. It will encourage you to learn the importance of forgiveness and letting go. At the same time, it will inspire you to move on from all the negative experiences you've had in the past. Just because someone hurt you before or broke his promise doesn't mean that it's the end of the world. You don't have to close your doors. Believe in giving chances! As for married couples, this movie is also for you. Bride for Rent will show you that indeed, marriage is sacred. There are many things that you can and you should do for love. Just love and be loved!
Bride for Rent Movie Quotes
"Commitment lasts forever."
"Hinala ko nga talaga na allergic ka pa sa words na commitment and forever."
"It's just that hindi lang talaga ako naniniwala sa ganyan."
"It was bound to happen."
"I'm sorry pare. I just realized how horrible your past relationships were."
"We are in this business of make-believe."
"Don't give us on up baby ang peg natin dito."
"Ang gwapo niya talaga pero di siya nakatingin sa akin."
"I am a woman of dignity, pride and integrity."
"I don't want a civil wedding. Marriage is sacred and I want a priest to officiate the wedding."
"I know my grandson. He does not believe in marriage."
Read Also:

Bakit Hindi Ka Crush ng Crush Mo?

Quotes
"So sa madaling salita, mas kailangan mo ako."
"A happy wife means a happy life."
"Para kumonti ang problema natin, kailangan palagi akong masaya."
"Don't you dare fall in love with me."
"We have to hurry. Time is gold."
"I'm not a charity case. Wag mo akong tulungan."
"Sometimes the people you love the most... Those are the persons who would hurt you the most."
"That was the last time I heard him say please."
"My grandson is not a heartless monster. His heart was so just broken for such a long time. And my love won't mend it and I don't think it will ever heal."
"From what i just heard, you are now better than your dad."
"Kapag marunong kang magsorry, ikaw yung mas mabuting tao."
"Congratulations! You are now close to becoming a better person."
"People change. Malay mo mapaniwala na ako sa forever na yan."
"Kung ganun, simulan na ang paghahanap sa forever."
"There's a miracle going on."
"Meron kaming pangako na walang iwanan. Yung bang to love and to hold, in richness or poorer, xxx. Yun yata talaga ang secreto eh."
Read Also: True Love: Frozen 2013 Movie Quotes
"When I saw Pia, I knew right that second, that she was the girl I'm going to marry."
"Tonight is a very special night. I hope you'll be proud of me."
"I could swear, love is just a game that children play. No more than a game. Til I met you, I never knew what love was. Til I met you, this feeling seems to grow everyday."
"Rocky, I have fallen in love with you. I am in love with you. But if we want this relationship to work, let us start with honesty. So I want to be honest with you now. Rocky, I love you. Can you love me too and never ever leave? Please?"
"It doesn't give you the right to play with my feeling."
"Sa lahat ng pagpapanggap, maniwala ka, minahal kita."
"This is the first time I believed into something real, that something can last forever. Yun pala, the joke was on me. Napaniwala mo ako na meron pang pwede pang magmahal sa akin ng ganito."
"I'm so sorry for all the stupid decisions I made."
"I love you too. So much."
"What is the secret to a long-lasting relationship?"
"The secret? Your lolo and I chose to love each other every waking day until the last day of his life."
"We just chose to believe in forever. So you see what we've learned? Forever is giving one another unlimited chances to love another every day."
"Just believe in love. Love and be loved. Love and forgive."
"Katanggap-tanggap ka kasi kaya mong tanggapin ang isang tulad ko. No more lies. No more script."
"Will you be my wife, for real?"
"Kahit hindi mo pa tinatanong, yes na yes. I'm so excited na."
"I love you, Rocco."
"I love you too Rocky, forever and ever."
"Eto na, Mr. and Mrs. Married for Real."
If you have seen the movie, do let me know what you think about it by commenting below!