"Shopping and Planning" Has Never Been This Fun
Shopping has always been my favorite thing to do. I believe that retail therapy is the answer to all my worries in life. Whenever I finish taking a mind-cracking exam in law school, the first thing I think of is to treat myself. When I say "treat to self", I mean going out with friends or enjoying a shopping spree. I look at it as a way of rewarding myself after surviving the stressful busy days. Whenever I get recognition and receive appreciation for all the tasks that I do, I also think of shopping. For me, it's the best reinforcement to keep myself inspired.
However, the problem comes in when I don't get enough "time" to shop. I have cases to read every day, exams almost every week and blog events every now and then. So, I end up running out of time. Good thing there are sites like
Save22.com.ph
that allows busy individuals like me to shop conveniently. This "time and money saving site" provides easy access to promotions, discounts, product offers and announcements from different brands and stores of the major cities in the country - Metro Manila, Davao and Cebu.
Honestly, I thought that Save22 is only for girls like me who enjoy shopping but has a limited time to do it. Recently, I discovered that this site is a perfect place for those who wants to make plans for trips. Who would have thought that only Save22.com.ph can help me arrange my quick trip to Manila next week?
I will be going to the Metro to meet a blogger friend from the US who just came home in the Philippines. There will be at least five of us and being the foodie in the group, it's my task to look for a good restaurant. My length of stay there will only be enough for me to have a quick lunch with blogger friends. By "quick," I mean it's the only thing that I will do there. My flight is on Thursday at 7AM and I'll be back in Davao by 5PM on the same day just in time for my evening class. Therefore, I have to make plans ahead of time in order for us to have a meaningful lunch.
Upon checking on the restaurants category of Save22, I found these promotions: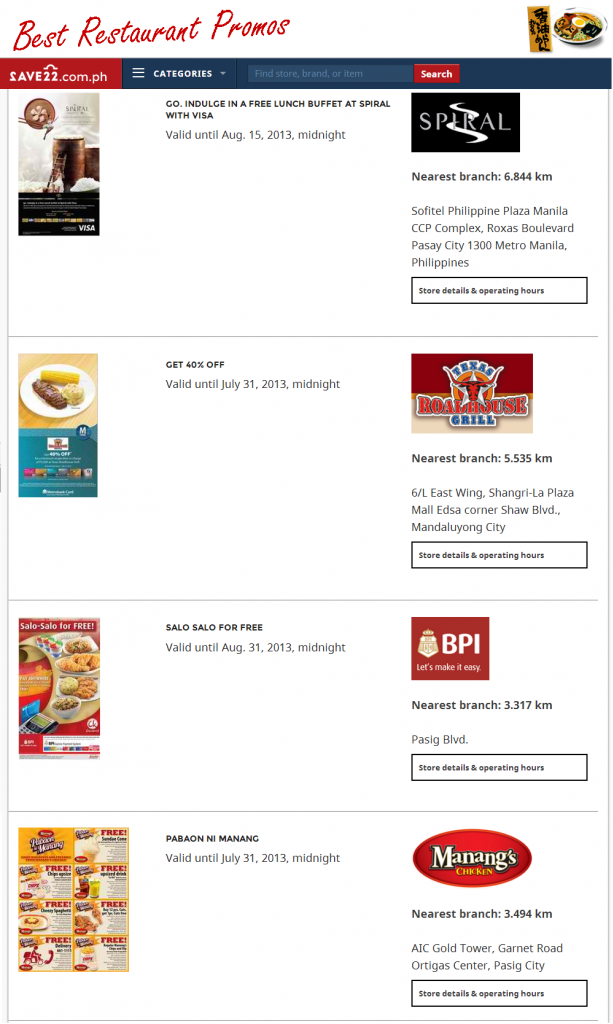 Thanks to Save 22, I already have top two places in my list. I think I'll go at Spiral for lunch and take advantage of their promo. The offer is a FREE buffet for the 4th person in the group. That means, we can save up to P2,341 with this promo by simply using our credit cards. At the same time, I haven't been to Sofitel yet and my trip to Manila next week will be a great one if I can get a chance to finally visit this luxury resort hotel. Plus, it's near SM Mall of Asia where we can do our quick shopping if time permits us to do so. We can also go for Texas Roadhouse Grill and save 40% OFF for every P3,500 order. If we choose this, we can save P2,000 for every P5,000 bill. We will only pay P3,000!
What's next? Of course, I have to shop for a great outfit for that special day! After searching for the restaurants, the next thing I checked was "Clothing & Apparel." Here's what I found: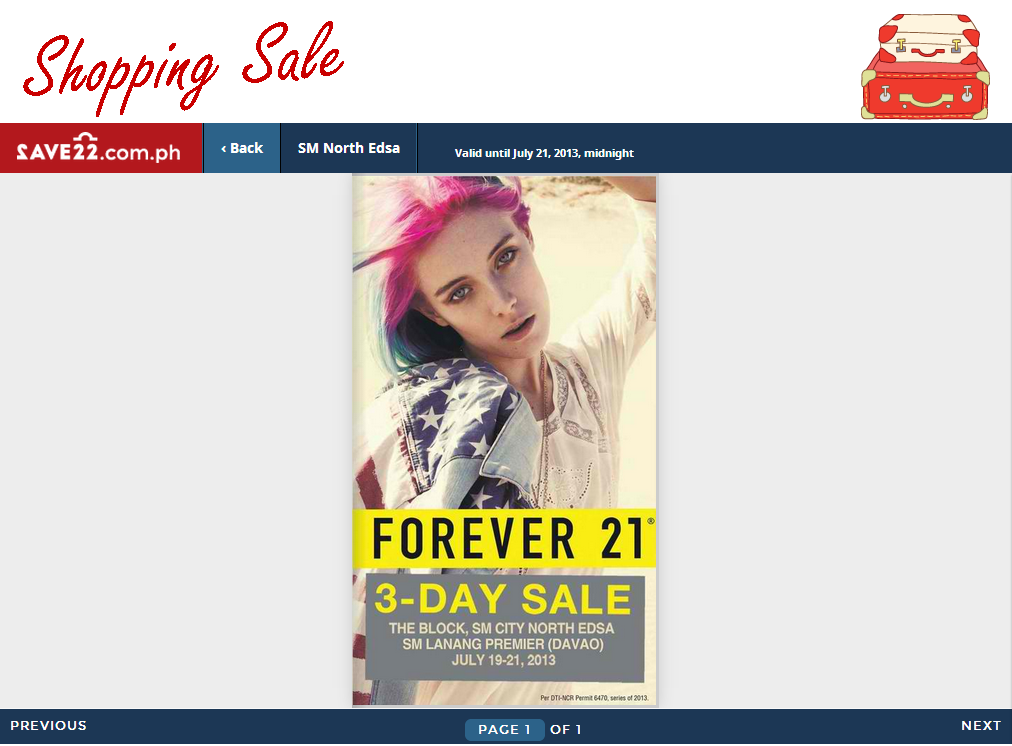 I'm really happy to see that the Forever 21 SM Lanang in Davao is participating on the 3-DAY SALE. If not for Save22, I wouldn't know that there will be an upcoming sale starting tomorrow. I will visit F21 on Sunday so I can shop for great finds which I can wear on my Manila trip. This is what I mean about retail therapy. What better ways could take my stress aside from shopping?
Now, I can simply sit back and wait for Thursday to come. Everything is all set. Thanks to the amazing
Save22.com.ph
. Planning was made easy!
With this site, we can research online first before shopping offline. We can start window shopping at the comfort of our own homes. Plus, we can save more time because all we need to do is to list down the Filipino retailers and malls we see at Save22. No hassle. Shopping has never been this fun. No registration needed!
What does Save22 offer to Filipinos?
1. Comprehensive pricing
2. Awesome promotions
3. Sale information
There are also many categories that will certainly make every shopper's life convenient. My top three favorite categories are "Beauty & Wellness", "Clothing & Apparel" and "Shopping Mall." How about you? What are your top picks?
If you are a busy bee like me, then this site is something that you must bookmark in your web browser. You can access Save22 with your iPhone, iPad, laptop and desktop computers. These are some of the memes I made to encourage you to check
www.Save22.com.ph
!
1. Popular promotions - You can see in one page all the popular offers given by various retailers all over the Philippines. These are the promotions that are most-viewed by the smart shoppers who use Save22 before doing the "buying" and "purchasing" offline.
2. Featured Retailers - Every week, Save22 gives its users a list of "featured brands and retailers." Your all-time favorite restaurant, department store or shopping place could be listed in the featured page!
3. Nearby Promos - Save22 provides filtered promotions depending on your location. With this feature, you can check the local deals in your city. For example, if you are in Davao city, the promos that will be made available are those coming from local malls like SM City, NCCC and etc.
4. New Promotions - Know the latest offerings from your favorite malls and stores.
Please note that Save22 is not only limited to shopping retailers. There are also some companies or brands which participate in this O2O system such as clinics, recreation centers and many more.
______________
As I get myself more familiar with the site, I discovered that some retailers have not yet participated in Save22 like:
iCenter
Abreeza Mall
Gaisano Mall
KrispyKreme
Bistro Group of Restaurants (Friday's, Italianni's, Bulgogi Brothers, etc.)
Fully Booked
Arrow
Bayo
Sbarro
Parfois
Prestige
Coco Cabana
Celine
Sanuk
People Are People
Havaianas
Seattle's Best
Collezione
Ipanema
The North Face
Steve Madden
Nine West
LBC
Air21
Pancake House
Naturalizer
J. Co Donuts & Coffee
Gerry's Grill
Chicco di Cafe
Hair Zone
Happy Lemon
ForMe
Claw Daddy
Bigby's Restaurant
Cinderella
For the complete list of Philippine shops found at Save 22, you can
click here
.
If you are a retailer who wants to let everyone know about your products and promotions, feel free to contact support@save22.com.
It's time for the memes I created using the Meme Generator iPad application.
1. How can Save22 help you save time and money?
There are many retailers who provide their current promotions in the Save22 website. You can access these information for free by simply visiting the category where their products are listed. With this feature, you can get the latest deal from your favorite mall or brand. Be the first one to know about the hot offers. You can also save more time since you've done your window shopping online.
2. Save22 provides promos, offers and discounts of participating retailers.
The secret to saving more is not to shop less but to keep yourself updated with promos, offers and discounts.Who says you need to cut on the budget for your shopping spree? Make sure to shop only when there is a major sale. How will you know about this? Just visit Save22 regularly.
3. You can get all the time you need with Save22.
Stop worrying about not having enough time to shop. Learn on how to use the 24 hours in every single day. During your free time, you can visit Save22 and browse for the things things you need to buy. Just click on the "Category" and you're good to go. Be productive with this site.
4. Save 22 is a must-visit.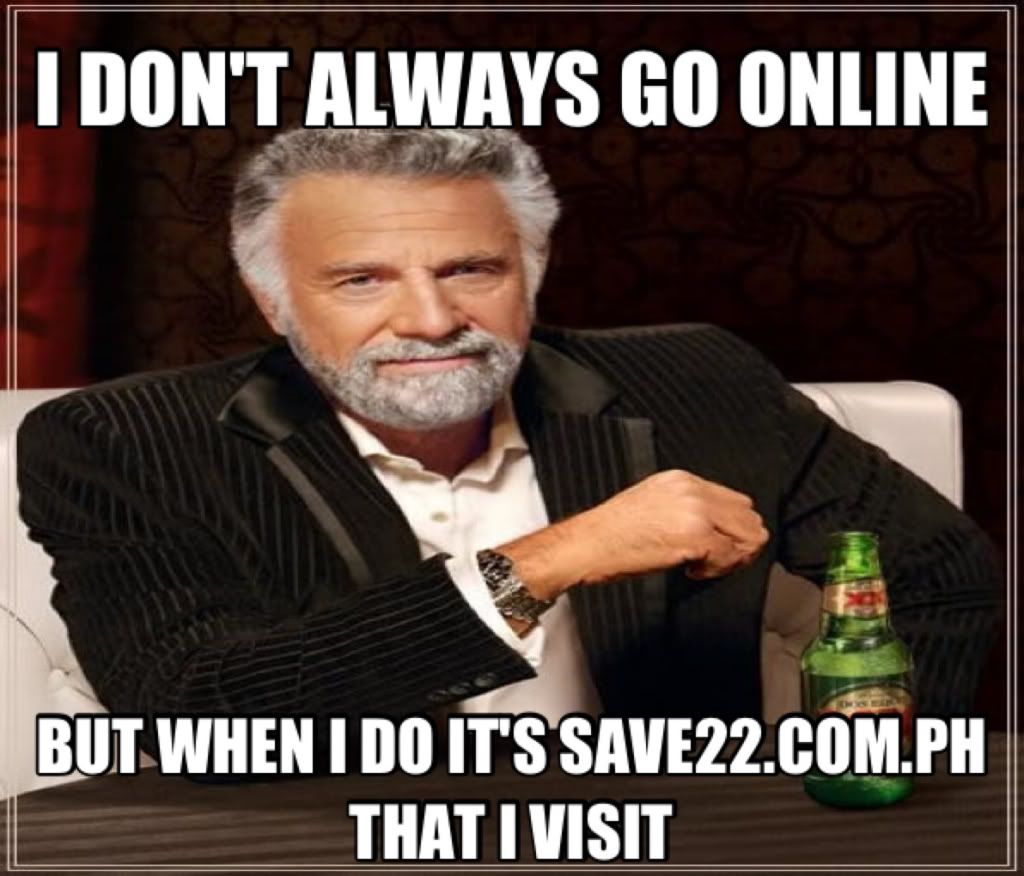 5. Smart shoppers know where to go.
If you consider yourself a smart shopper, then make it a habit to check what's new at Save22. Your favorite retailer is probably having a grand offer right now and I'm pretty sure you want to take advantage of it. Don't worry, Save22.com.ph is a very user-friendly site. It's highly accessible.
6. I really like Save22.
Need I say more?
Shop like a boss with Save22.com.ph!