They say that law school is a jealous mistress. It requires so much of your time and demands for your attention every single day. You have to do many readings to save yourself from your professors and of course, to learn something which will help you in taking the bar examinations. Some people also say that law school is not a simple walk in the park. They say "It's a jungle out there."
I wasn't able to prove any of these things until I decided to study law. While it may be true that the College of Law is not easy, it doesn't mean that it has nothing great to offer. Since day 1 in law school up to this very moment, I can say that I'm truly happy with what I'm doing. I may not get to party every night like I used to do nor sleep for more than eight hours everyday, but I know that deep down in my heart, I am happy. There are times when my efforts are not appreciated but it doesn't matter because I know that I'm capable of striving harder. There are also days when I feel completely down and stressed due to the bulk of readings to do and exams to complete. With all these imperfections in law school, I still find myself contented and happy.
To keep me same, I watch law-related TV series like
Suits
and visit my favorite Law School Memes page on Facebook. In this post, I will share the top 10 memes I like from the page.
1. What do law students say to sleep? Not today.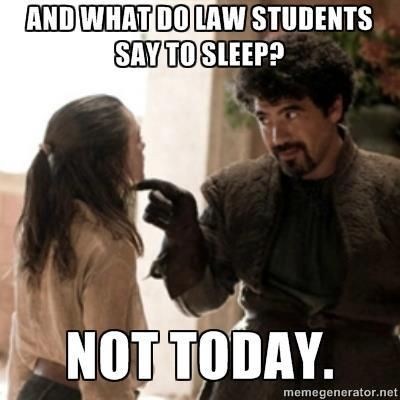 If you watch the Game of Thrones series, then seeing the photo will surely remind you of one of the episodes of GoT Season 1. But if you are a law student, then what you will remember are "the sleepless nights". Those are the nights when you have to stay up late so you can prepare for dreadful recitations in your classes. You need to read 10 cases for one subject, 5 cases for another subject and 3 for the other one. Sometimes you wonder, "Where did my time go?" Well, the answer is "law school."
2. Just highlighting the important facts.
Highlighters and colored pens are every law student's best friends. They serve their purposes well in preparing students for the examinations. They are used to highlight important facts and statements. However, the problem arises when every single word in a page is important. So, we all end up highlighting everything! Yes, not leaving even a single period.
3. Call on you the one day you didn't do your readings.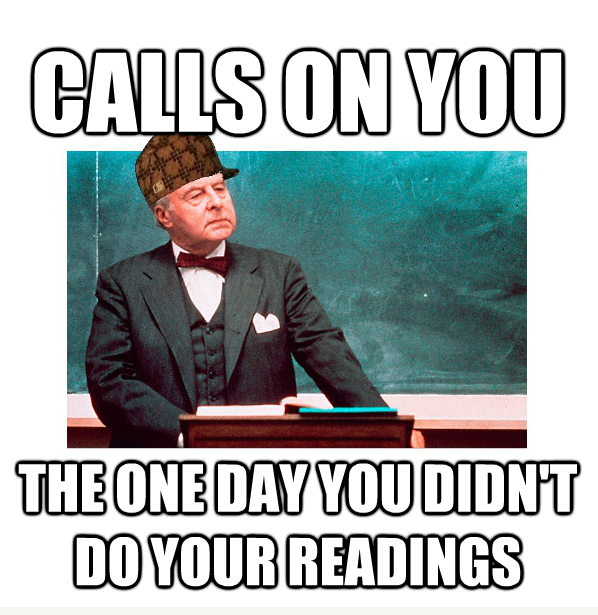 You feel exhausted and stressed after spending your days reading the cases assigned and understanding the provisions of the law. But every time you attend your class, your classmates are called to do the recitations and not you. So, you decided to skip one night of readings and declare it as an "all-by-yourself-treat" night. The next day comes: you go to school feeling wonderful, your teacher enters the room and calls your name. You have been asked to discuss the facts and the issues of a certain case you haven't read at all. Yes, on that one day you didn't do your readings. Who's feeling unlucky?
4. Do the readings, they said. It won't take long, they said.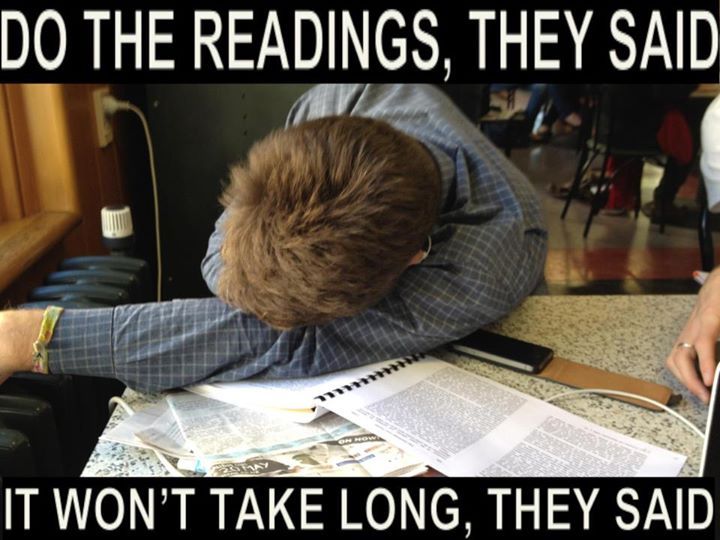 There are just so many things to read in law school. They are must-reads. Otherwise, you're doomed. When I don't feel like reading the assigned cases, I simply recall what my teacher said before.
"The best stories are found in those cases assigned to you. They show you stories of real persons. The things you read there are happening in reality. So, instead of spending your time reading the novels or watching movies, why don't you try to discover the stories of the characters in every case?"
Sounds weird but she's right.
5. You got the right answer, but not the right way of getting the answer so it's wrong.
Every law student's dilemma is knowing the exact provision and jurisprudence applicable to the question but not knowing how to say it. Some students have mastered answering the exams correctly. Well, they must be really good.
6. Reads 63 page case, finds out case law has been replaced by two lines statutory provision.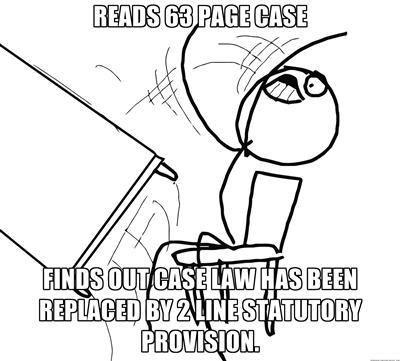 Reading a very long case and memorizing the case law only to find out that it is no longer controlling nor persuasive. It has no value at all for it has been overturned or replaced by a provision in a new statute. Such a waste of time, right?
7. Hasn't started reading. Facebooks about how long the reading is.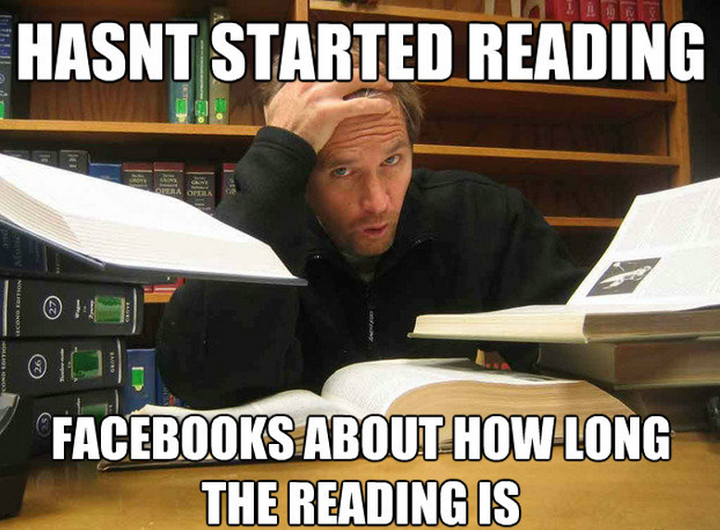 I'm guilty of this. When I was still a new law student, what I did was to post photos of the readings I need to do on Instagram, Facebook and Twitter. Well, there are just days when getting online is so tempting when there are piles of cases and laws to read. Here comes discipline. These days, I no longer share online my to-do's but instead, turn the wifi off and just read.
8. Not sure if I'm calm because I studied enough or because I don't give a shit anymore.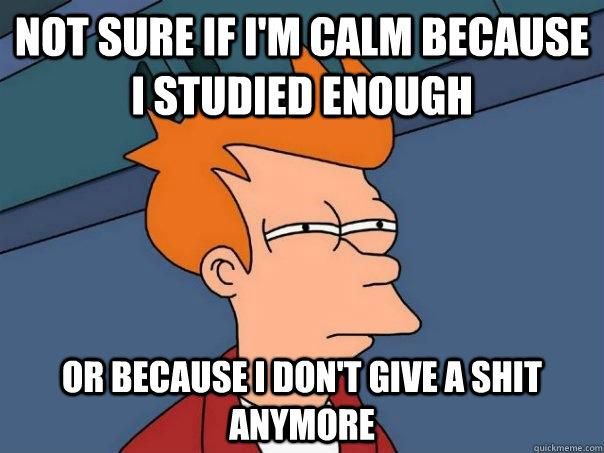 The hair line between "I'm ready" and "I'm not ready" statements that every student feels during examinations. Which is which? Sometimes, when I know that I have done my part as a student, I don't give a shit anymore. Let's count 10, 9, 8, 7, 6, 5, 4, 2, 1.
9. One does not simply finish law exams and not party.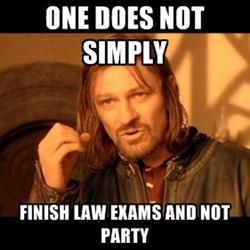 My dear friends, "balance" is everything in the College of Law. For every one exam down, law students usually go out with their classmates, party all night long and wish that they forget the questions in the exam. No discussions about the correct or wrongs answers. Just party. Period.
10. Studying law. Making a responsible choice for mah future.


I hope so.



Credits for the photos to Law School Memes Facebook Page