What Starbucks Taught Me Today
One of the coffee shops that I keep coming back in the city is Starbucks SM Annex. It is my most favorite store in Davao because of everything inside the said branch. First of all, I enjoy the White Chocolate Mocha they serve for me. Whenever I enter Starbucks, I no longer need to tell them my order because they already know what I want. During the days when I feel like getting another type of beverage, I make sure to inform them ahead of time. Second, I love the whole SB crew. They are sweet and nice, not only to regular customers like me, but also to their first time visitors. Their friendliness is overwhelming. Third, I like the long table where I always sit when I'm at the said branch. It's the most comfortable seat for me! I feel like I can do anything when I'm seated on my favorite place. Lastly, their Wifi connection is amazing. Thus, I can work online and post updates on my blog easily. They also have outlets everywhere. For someone like me who brings my gadgets all the time, finding outlets easily is heaven.
Last week, Ms. Julie of Starbucks invited me to attend the Starbucks Coffee Seminar Series. Without hesitations, I said yes. After all, I am
The Coffee Chic
and I'm interested to learn more about coffee.
It's a Monday but I woke up early to attend the seminar with the topic "Coffee Brewing at Home and Coffee Tasting Basics." It was hosted by Ms. Mai, the district coffee master in the city. She is a know-it-all when it comes to coffee and Starbucks. The best thing she said during the quick seminar was "This is not just a job for me. It is my passion." From her words, I can see where the success of the brand is coming from. It is, certainly, from the people. Starbucks has great employees which sets them apart from the rest.
One of the questions raised during the event was, "What is the significance of Starbucks' logo?" To be honest, I also wanted to ask the same question. I have always been curious about that "girl" I always see printed in my cups of coffee. So, anyway, the answer is simple.
Ms. Mai said that the "siren" in the logo signifies the mermaid who sings to attract and call the sailors. The three founder of Starbucks named their brand from the novel Moby Dick's character Starbuck, who is a sailor. According to them, the siren is calling Starbuck as he sails. Just like the siren, Starbucks is also calling everyone by giving them reasons to "keep coming back for more.
There are many things I learned from the seminar earlier. One of those is the correct way of storing coffee beans. I didn't know that placing the beans on the fridge is a big no-no. Instead, it should be placed in an opaque container in order to avoid its spoilage. Also, for a perfect taste of brewed coffee, the boiling water used must be set aside for five minutes first before adding it to the coffee.
The best way to enjoy your coffee is to close your eyes and smell its aroma. Allow coffee to take you to a place you've always wanted to go. Then, make sure to "slurp" as it brings great taste to your drink. The louder you slurp, the better!
From the seminar, I also learned the correct steps of brewing using the coffee press. I really enjoyed the medium house blended coffee prepared during the quick meeting. I loved it more when Ms. Julie offered the guilt-free indulgence! Perfect brewed coffee + Irresistible sweet treat = Satisfaction!
To sum it all up, I really enjoyed the seminar conducted by Starbucks. I didn't only learn new things but I also met some new friends namely Joy, Jessie, Cobey and Noel. Meeting new people who share the same interest with me is priceless! It is "happiness".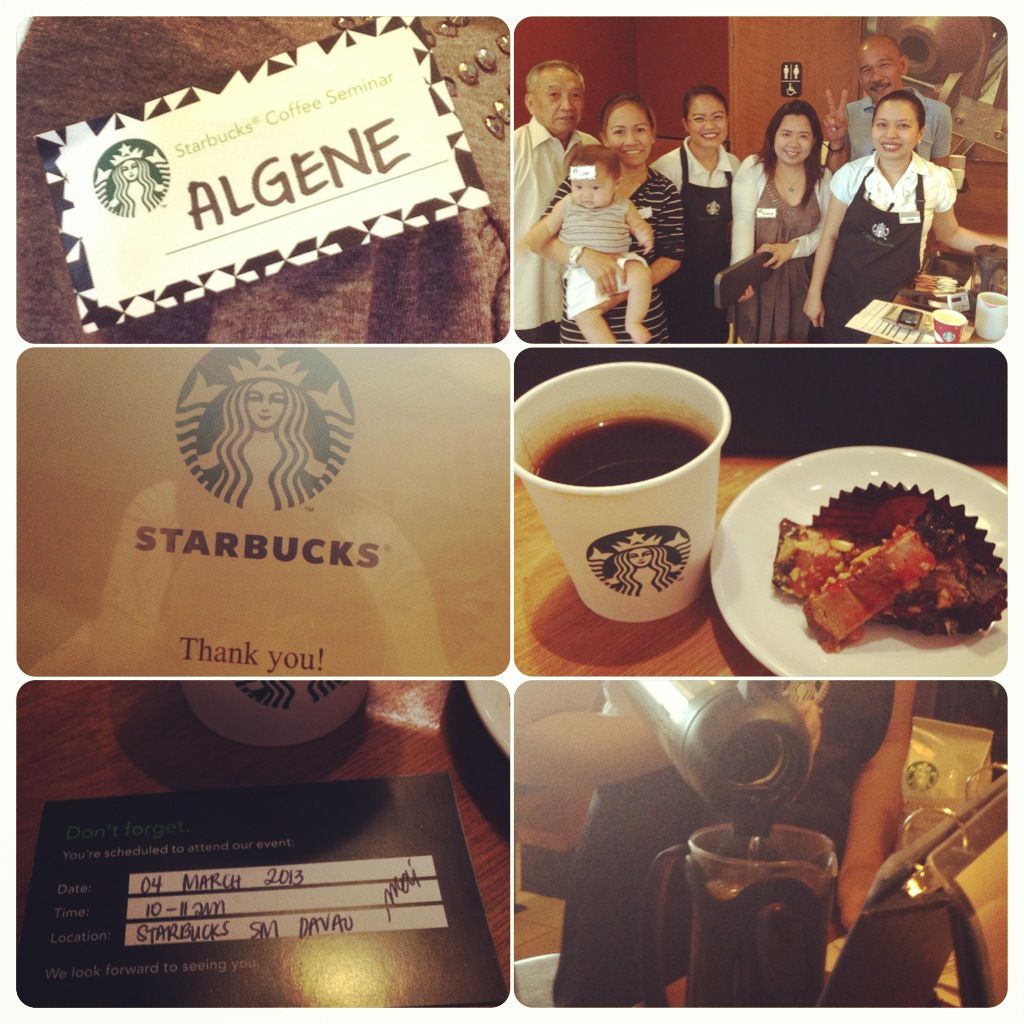 And of course, the cutest guy I met earlier is no other than baby Liam! Isn't he lovely? It was my first time to see him and I was glad that he giggled everytime I talk to him. Ohhh, this little one is completely adorable!


Thank you Ms. Mai and Ms. Julie for inviting me! Thank you for sharing the experience with me and the rest of the people who attended the seminar. Now, I can say that I am quite knowledgeable about the "important details" of coffee. Plus, I got a new name tag sticker to add in my iPad cover!