Kids' Style Giveaway and Contest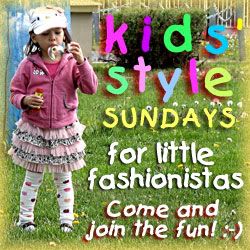 Happy Caity's Kids' Style is a new meme that allows little fashionistas to showcase their own sense of style when it comes to dressing up. Kids and mommy bloggers can join this fun fashion meme every Sunday. All that needs to be done is to choose the best picture showing the kids' fashion sense and write about it on blogs. Mommies can now share to the world how beautiful and cute their kids are (especially when dolled up)!
Because of the success of this new meme, 13 bloggers teamed up for a
giveaway and contest
to encourage and welcome new participants.
I am one of the sponsors of this new giveaway which means that I am not allowed to join. So, let me just invite you to participate into this simple and easy contest. These are some of the items that you could win:

1st prize = $50 Paypal credits
2nd prize = $30 Paypal credits
3rd prize = $20 Paypal credits
4th prize = 1 month ad space @ The Jagged Barn
5th prize = 1 month ad link @ Ideas n Pink
Click
here
for more details.
*******************************
Only 4 days left before my mini-giveaway ends! Have you entered it already? If yes, let me thank you with all my heart. Thanks for supporting
The Coffee Chic
. If not yet, then, what are you waiting for? Click the badge and join my first ever mini giveaway.

I'm planning to host my own giveaway on January. Are you interested into sponsoring? You can email me at thecoffeechic@gmail(.)com or post a comment on this post. I will write a blog entry about it and create a Google Docs when I'm ready. :)
Thank you for the first Coffee Talk ♥